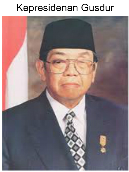 Read Online
kepresidenan Gus dur
Average Rating
:
0
(

0

votes)
Pembentukan PKB dan Pernyataan Ciganjur
banyak orang dari komunitas NU meminta Gus Dur membentuk partai politik baru. Ia tidak langsung mengimplementasikan ide tersebut. Namun pada Juli 1998 Gus Dur mulai menanggapi ide tersebut karena mendirikan partai politik merupakan satu-satunya cara untuk melawan Golkar dalam pemilihan umum. Wahid menyetujui pembentukan PKB dan menjadi Ketua Dewan Penasehat dengan Matori Abdul Djalil sebagai ketua partai.
http://v.koobits.com/1kd8luojtg4p
Copy the book address above and add to your e-library!