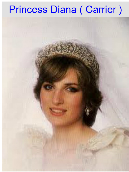 Read Online
Princes Diana (Carrier)
Average Rating
:
0
(

0

votes)
Pada 29 Juli 1981 Diana melangkahkan kaki bersama Pangeran Charles ke altar Katedral St. Paul, London, guna mengucap janji setia. Beratus juta pasang mata menyaksikan perkawinan agung ini lewat televisi. Bak Cinderella dari negeri dongeng,
http://v.koobits.com/1kd83wyjtg4p
Copy the book address above and add to your e-library!