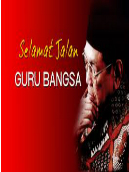 Read Online
Prosesi Pemakaman Gusdur
Average Rating
:
0
(

0

votes)
Aktivitas setelah kepresidenan
Perpecahan pada tubuh PKB
Sebelum Sidang Khusus MPR, anggota PKB setuju untuk tidak hadir sebagai lambang solidaritas. Namun, Matori Abdul Djalil, ketua PKB, bersikeras hadir karena ia adalah Wakil Ketua MPR. Dengan posisinya sebagai Ketua Dewan Syuro, Gus Dur menjatuhkan posisi Matori sebagai Ketua PKB pada tanggal 15 Agustus 2001 dan melarangnya ikut serta dalam aktivitas partai sebelum mencabut keanggotaan Matori pada bulan November.Pada tanggal 14 Januari 2002, Matori mengadakan Munas Khusus yang dihadiri oleh pendukungnya di PKB.
http://v.koobits.com/1kd87wur6h4p
Copy the book address above and add to your e-library!