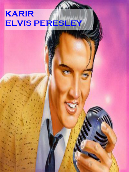 Read Online
KARIR ELVIS PRESLEY
Average Rating
:
0
(

0

votes)
Pertama Elvis yang berusia 18 tahun masuk di Sun Studio, dengan malu-malu dia meletakkan uang $ 3.98 diatas meja. Dia ingin merekam sebuah lagu untuk hari ulang tahun ibunya dan ini untuk yang pertama masuk ke Studio rekaman.
http://v.koobits.com/1kd83w_6pq4p
Copy the book address above and add to your e-library!