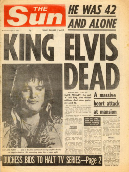 Read Online
KEMATIAN ELVIS PRESLEY
Average Rating
:
0.3
(

1

votes)
Siapa yang tak kenal artis legendaris Elvis Presley. Banyak orang masih terus mempertanyakan penyebab kematian 'Raja rock & roll' ini. Sebagian besar penggemarnya mengatakan, kematiannya akibat serangan jantung. Namun, baru-baru ini diketahui, Elvis menghembuskan napas terakhir karena menderita sembelit kronis.
http://v.koobits.com/1kd8f_4jtg4p
Copy the book address above and add to your e-library!