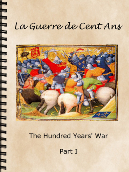 Read Online
The Hundred Years' War
Average Rating
:
2.6
(

28

votes)
In the beginning of the fourteenth century, many conflicts draw France and England ever closer to war, including a question over royal heritage and a fight over Guyenne. Soon after, in October 7th 1337, the Hundred Years' War had begun.
http://v.koobits.com/1kd8w5pohe4p
Copy the book address above and add to your e-library!