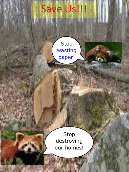 Read Online
Save Us!!!
Average Rating
:
0
(

0

votes)
Once a upon a time, there was a family of red pandas living in Bamboo Forest. Bamboo Forest was a haven for red pandas because it was full of bamboo trees and fruit trees. A pair of red panda cubs, Pepper, and her sister, Fifi, were jumping from tree to tree chasing each other while waiting for their mother to come home.
http://v.koobits.com/1kd87nyevd4p
Copy the book address above and add to your e-library!