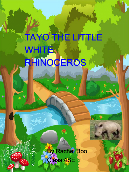 Read Online
Tayo, the little white rhinoceros
Average Rating
:
5
(

2

votes)
Once, there lived a little white rhinoceros called Tayo. He was a very mischeivious little rhinoceros and often likes to play tricks on other animals in the forest just because he did not like them.
http://v.koobits.com/1kd8wpqk824p
Copy the book address above and add to your e-library!