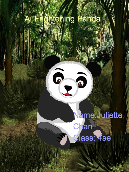 Read Online
A Frightening Panda
Average Rating
:
4.9
(

2

votes)
There was once a panda named Emily . She lived deep in the forest. Everyday she had bamboo for breakfast ,lunch , dinner and supper. One day,when Emily was looking for bamboo to eat she saw three woodcutters cutting down trees! She wanted to stop them but did not know how to . She ran away with no appetite to eat .
http://v.koobits.com/1kd83fz2w54p
Copy the book address above and add to your e-library!