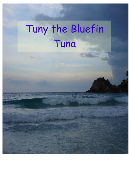 Read Online
Tuny the Bluefin Tuna
Average Rating
:
4.6
(

1

votes)
My name is Tuny and I am a Bluefin Tuna. One day, my friends and I decided to go for a play date. We wanted to go to the Great Barrier Reef in Australia to see the Great White Sharks.
After School, our journey to Australia had began. Hours later, we reached our destnation. We tried to see which part of Australia we were at, but we had no idea.
http://v.koobits.com/1kd87rpig14p
Copy the book address above and add to your e-library!