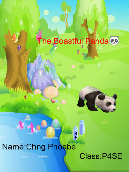 Read Online
The Boastful Panda
Average Rating
:
3.6
(

4

votes)
Once,there lived a boastful panda.He liked to boast about his ability to swim.All the animals hated him. While swimming in the water,he saw a starfish.He started playing with it.But a hungry shark spotted him.
http://v.koobits.com/1kd82-yeg14p
Copy the book address above and add to your e-library!