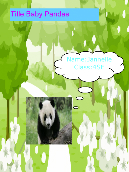 Read Online
A Baby Panda
Average Rating
:
1.6
(

2

votes)
During the June holidays,Mrs Lim brought Jolene,Erna and Brandon to China for a camping trip.While they were there,they went trekking in the forest,hoping to see some giant pandas in the wild.
One fine morning,after they had their breakfast and packed their bags,they set off trekking in the forest.They prayed earnestly that they would get to see some pandas.
http://v.koobits.com/1kd8z-psbk4p
Copy the book address above and add to your e-library!