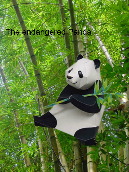 Read Online
The endangered panda
Average Rating
:
0
(

0

votes)
Once upon a time in China, there lived a panda.Her name was Xiao Mei. She had two brothers,both older than her.Both her parents were very worried for their children and themselves for there was rumor that a lot of pandas were being killed from starvation and for their fur.Luckily for them,the forest they were in was not cut down nor were the pandas killed yet.
http://v.koobits.com/1kd8wy91dz4p
Copy the book address above and add to your e-library!