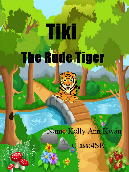 Read Online
Tiki the rude tiger
Average Rating
:
0.2
(

3

votes)
Once there lived a white tiger called Tiki. She was very rude so all the animals in the forest hates her. They would try avoiding her when they saw Tiki. She was left all alone.
http://v.koobits.com/1kd8-rhmkf4p
Copy the book address above and add to your e-library!