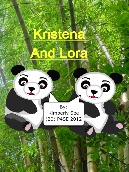 Read Online
Kristena and Lora
Average Rating
:
0.3
(

1

votes)
Once upon a time, long long ago, a peaceful family of black and white panda bears roamed through the forest of towering bamboo in a beautiful region of china. It was a happy family, with two newly borned pandas called Kristena and Lora, who had pretty coal-black eyes and sleek fur. they were sensible, playful but optimistic. all day long, the two pampered pandas whiled away their time, munching on a tender bamboo shoot, lapping up the cool, crystal clear water from the nearby river, playfully gambolling around or wandering around in the delights of fanciful dreams.
http://v.koobits.com/1kd8c25hqb4p
Copy the book address above and add to your e-library!