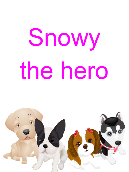 Read Online
Snowy the hero
Average Rating
:
2.4
(

5

votes)
Hi, everyone! I am Snowy! You may think I would be white, but I spilt coffee on my self this morning! You may think, what a soppy book, but I am a hero because… … ( read on to find out! )
http://v.koobits.com/1kd8z_osvd4p
Copy the book address above and add to your e-library!