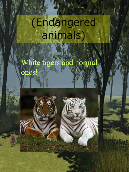 Read Online
Endangered Animals
Average Rating
:
2.9
(

4

votes)
It was a hot and humid day, the one and only white tiger in the entire forest, Whitey, was resting on a big rock. Suddenly, a hungry hunter came and was about to attack Whitey. She was shocked, trying to find her good friend, Shauna.
http://v.koobits.com/1kd8-pqk824p
Copy the book address above and add to your e-library!