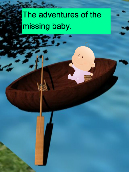 Read Online
The adventures of the missing baby
Average Rating
:
4.2
(

11

votes)
It was a beautiful day and a women, named Mrs Henlock, Her full name is Susan Henlock, was talking to a friend she had not met for years when an old lady named Mrs Oldring, always wanted a baby but she never had. And so she stole Mrs Henlocks baby, Kenput.
http://v.koobits.com/1kd8u-rtiv4p
Copy the book address above and add to your e-library!