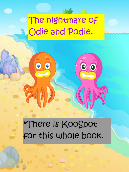 Read Online
The nightmare of Odie and Podie
Average Rating
:
3.2
(

10

votes)
There once lived two little octopuses, Odie and Podie. They were the best of friends. But one day, there was a problem. A man named Mr. Krooken, wanted to buy Podie for twice the price to serve his customers, sushi.
http://v.koobits.com/1kd8749adz4p
Copy the book address above and add to your e-library!