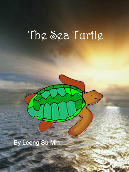 Read Online
The Sea Turtle
Average Rating
:
2.3
(

5

votes)
There was once a Sea Turtle.The turtle's name was Taffy.She lived happily at the sea. One day, she went to look for food. Ah! She sees some seaweed on the sea floor. As Taffy munched on the seaweed, a tiger shark spotted her.The shark's name was Calvin.
http://v.koobits.com/1kd8-_nyte4p
Copy the book address above and add to your e-library!