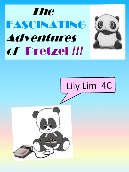 Read Online
The Fascinating Adventures of Pretzel
Average Rating
:
3.8
(

5

votes)
There once lived a new born baby panda named Pretzel. One day,the forest caught fire. As Pretzel's mother had to escape quickly, she abandoned Pretzel. Poor Pretzel was left under a tree, beside a bush.
http://v.koobits.com/1kd8-pikwn4p
Copy the book address above and add to your e-library!