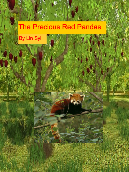 Read Online
The Precious Red Pandas
Average Rating
:
4.8
(

1

votes)
Redy could hear the footsteps of danger. He hurried after his mother. His brother was killed by the hunters. As they scurried, Redy's mother's tail got stuck in some branches. She waved a paw to say that Redy should go. He looked back and went away with tears in his eyes.
http://v.koobits.com/1kd8-jesvd4p
Copy the book address above and add to your e-library!