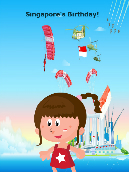 Read Online
National Day!
Average Rating
:
4.5
(

5

votes)
"hi! I am Mary, my friends and I will introduce you to Singapore!"
"I am Lilian, you see those helicopters? They are flying the Singapore flag! Do you also see the people with parashoots? They land at the Marina Bay during the National Day celebration!"
http://v.koobits.com/1kd8275yjq4p
Copy the book address above and add to your e-library!