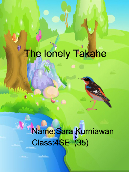 Read Online
The lonely Takahe
Average Rating
:
2.3
(

2

votes)
In the valleys on South Island, there lived a rare Takahe and her name was Taka. Taka is a rare and flightless bird. She had a plumage of brilliant blue , copper-green eyes, and a large red beak.
http://v.koobits.com/1kd8lw4qea4p
Copy the book address above and add to your e-library!