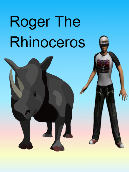 Read Online
Roger the Rhinoceros
Average Rating
:
2.7
(

2

votes)
Roger is a rhinoceros.He lives in the jungle but someone that lives in a house nearby had cut down a lot of trees and all the bushes. Now, Roger has nowhere to hide if he is in danger.
http://v.koobits.com/1kd8c2l4ph4p
Copy the book address above and add to your e-library!