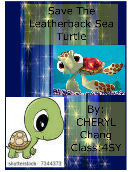 Read Online
Save The Leatherback Sea Turtle
Average Rating
:
4.7
(

1

votes)
It was a bright and sunny afternoon, mother thought of going for a family outing, at the beach. My sister, Janet and i agreed to it as none of us were going out. When we reached the beach, my sister and i was very happy because it has been a very long time since we went to the beach as a family.
http://v.koobits.com/1kd8u5px9g4p
Copy the book address above and add to your e-library!