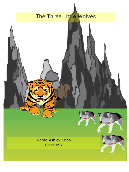 Read Online
The Three Little Wolves
Average Rating
:
4.1
(

11

votes)
Once upon a time, there lived three wolves. Their names were Tom, Tina and Tim. Everyday, they grew bigger and bigger. They lived alone together as their mom and dad owned a sausage business in Chicago. One day, they all could not fit in their house together anymore. So they set off to find material for building thier house. Tom found straw from the Barn next door.
http://v.koobits.com/1kd827n4ph4p
Copy the book address above and add to your e-library!