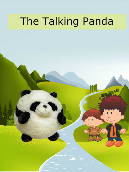 Read Online
The talking panda
Average Rating
:
2.4
(

6

votes)
The sunlight poured thougth Tim's bedroom window.Another day had dawned.Tim the hunter was going to hunt with his son, Tom,they loved hunting. Tom just got his new gun and was testing it out.They went in to the woods to shoot Tom's very first panda.They had to cross the brige to go to the baboo forest.They had to pack their backpack to go, they had to pack a light snack, water, an umbrella, tent and the gun.
http://v.koobits.com/1kd8fn6ote4p
Copy the book address above and add to your e-library!