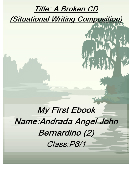 Read Online
Situational Writing 1 – A Broken CD
Average Rating
:
0
(

0

votes)
My name is Jack and i am here to inform u that i bought a CD from your store of Kico CD Shop at 1 October 2007, 11 am. When i went home, i just noticed that the CD was broken into pieces and decided to take a look at the receipt and saw these words "Goods can only be excahnged within 3 days of purchase with original receipt.
http://v.koobits.com/1kd827rtib4p
Copy the book address above and add to your e-library!