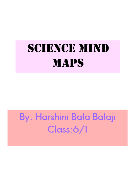 Read Online
Science Mind Maps
Average Rating
:
2.2
(

3

votes)
Water is essential for life. All forms of life depend on water for survival.Almost 3/4 of the earth's surface is covered with water. Water is commonly found in water bodies. Pure water is colourless, odourless and tasteless.
http://v.koobits.com/1kd8lnj9g14p
Copy the book address above and add to your e-library!