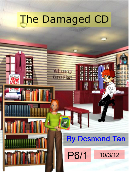 Read Online
The Damaged CD
Average Rating
:
3.7
(

5

votes)
I am writing to you to request for an exchange of CD. I have bought a CD at your shop on 1 October, 11 am. I asked one of your employees, Jane Tan, to recommend me a CD and she took me to see one. I bought the CD home to hear the songs on the CD but it could not be played.
http://v.koobits.com/1kd8z-yqgm4p
Copy the book address above and add to your e-library!