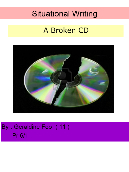 Read Online
English Situational Writing – A Broken CD
Average Rating
:
0.8
(

1

votes)
I am writing this letter to inform you about the incident that had happened at your Kico CD Shop in People Plaza . It happened on 1 October 2007 ,11am , i went to your shop to buy a CD name " Top 10 Children's Songs" . When i reach home , i opened the CD and found out that the CD that i had bought was broken.
http://v.koobits.com/1kd824jgm84p
Copy the book address above and add to your e-library!