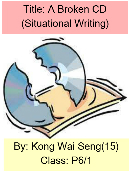 Read Online
Situational Writing Composition – A Broken CD
Average Rating
:
0.8
(

3

votes)
On 1st October 2007, at 11am, I went to Kico CD Shop at People Plaza to buy a CD entitled "Top 10 Children's Songs". The cashier who sold me the CD was Miss Jane Tan. When I went home, I opened the CD case and found out it was broken. I found out that I could exchange the CD within 3 days of purchase.
http://v.koobits.com/1kd8c25tib4p
Copy the book address above and add to your e-library!