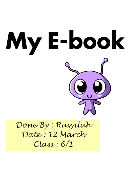 Read Online
Broken CD
Average Rating
:
3.5
(

4

votes)
I am writing to you a letter to tell you about the CD that I bought That was later discovered broken . On 1st of October I bought a CD But when I got home , the CD was broken . I went back to your shop to ask for an exchange as it was still within the date of exchange.
http://v.koobits.com/1kd8l-_nyx4p
Copy the book address above and add to your e-library!