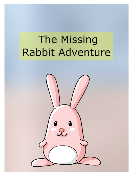 Read Online
The Missing Rabbit Adventure
Average Rating
:
4
(

4

votes)
Dear Residents of BLK 53, I am writing to you regarding my missing rabbit. I brought my rabbit to school,after that, when i was walking home i found out that my rabbit was missing,and i lost my rabbit on 2 october,1:50p.m.
http://v.koobits.com/1kd8lnrj9s4p
Copy the book address above and add to your e-library!