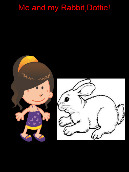 Read Online
My Lost Rabbit, Dottie.
Average Rating
:
0
(

0

votes)
Good morning Miss Lee and friends.This is my favourite Dottie,is a female.Her colour is brown and white. And her favourite toy is rubber ball. Her favourite food is cabbage.
http://v.koobits.com/1kd8l7-6j94p
Copy the book address above and add to your e-library!