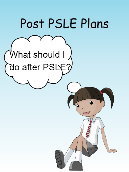 Read Online
Post PSLE Plans
Average Rating
:
2.5
(

4

votes)
In the 3 months after PSLE, I want to spend my time relaxing. Afterall, we have worked extremely hard for the exams! I also want to create fond memories of my classmates as we might not get into the same secondary school.
http://v.koobits.com/1kd876ph9v4p
Copy the book address above and add to your e-library!