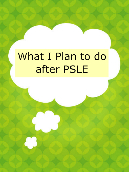 Read Online
What I Plan to do after PSLE
Average Rating
:
2.8
(

4

votes)
After PSLE, I want to go to Raffles Institution. My parents encouraged me to go there. I also think this is a good choice as Raffles Institution is under the Integrated Programme, which means that I do not have to take my O-levels.
http://v.koobits.com/1kd87urjxs4p
Copy the book address above and add to your e-library!