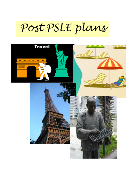 Read Online
Post PSLE plan
Average Rating
:
4.5
(

3

votes)
After PSLE, if i'm able to walk along a lake, enjoying the breeze and scenery, that would definitely be the best thing ever! I would definitely go on an adventure hunt in the forest,or I would explore the trees and animals in the forest.
http://v.koobits.com/1kd8l-yxtg4p
Copy the book address above and add to your e-library!