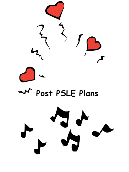 Read Online
Post PSLE Plans
Average Rating
:
0.2
(

2

votes)
I would want to take a walk on a rainy day and enjoy the breeze after PSLE. And because I love music, I think I would probably spend a day just listening to music and relaxing after PSLE.
http://v.koobits.com/1kd8u_je8l4p
Copy the book address above and add to your e-library!