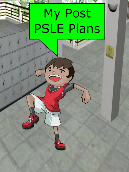 Read Online
My Post PSLE Plans
Average Rating
:
3.1
(

8

votes)
1.Celebrate with my friends in my class!!we should celebrate with our friends one of these days since it is after our PSLE. 2.Do sports with my friends!!!3.Go on a vacation with my family members. 4.Play computer games all day!!!5.Play electronic games with my friends
http://v.koobits.com/1kd8cz_ps14p
Copy the book address above and add to your e-library!