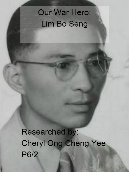 Read Online
Our war Hero:Lim Bo Seng
Average Rating
:
3.2
(

9

votes)
Lim Bo Seng was born on 27 April 1909,at Meilin Town, Nan'an, Fujian,China. He was the eleventh child but the first son. He passed away on 29 June 1944,(aged:35)at Batu Gajah Prison,Malaya. He has served for two years from 1942-1944.
http://v.koobits.com/1kd8wnythb4p
Copy the book address above and add to your e-library!