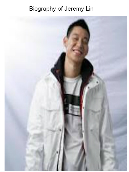 Read Online
Biography of Jeremy Lin
Average Rating
:
5
(

1

votes)
Born in palo alto carlifornia,in 1988,Jeremy lin excelled at baketball in high school and college at havard university.He signed in with the golden state warriors for the 2010-2011 season. After two rejections,he called up with the new york knicks for the next season.
http://v.koobits.com/1kd8375xbd4p
Copy the book address above and add to your e-library!