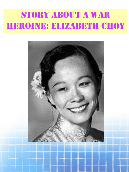 Read Online
Biography – Elizabeth Choy
Average Rating
:
0
(

0

votes)
Elizabeth Choy (Yong Su Mei) was a Singapore World War II Heroine . She was born on 29 November 1910 in a Hakka family in Kudat , British North Borneo . Her Great-Grandparents came to Kudat from Hong Kong for some mission.
http://v.koobits.com/1kd82n56qv4p
Copy the book address above and add to your e-library!