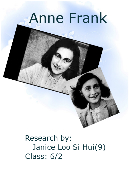 Read Online
Anne Frank
Average Rating
:
2.5
(

2

votes)
On 13th March 1933, elections were held at Frankfurt of the municipal council and Adolf Hitler's Nazi party won. Antisemitic demostration occured almost immediately, and the Franks fear what would happen to them if they stay in Germany.
http://v.koobits.com/1kd8un56qv4p
Copy the book address above and add to your e-library!