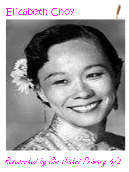 Read Online
Biography: Elizabeth Choy
Average Rating
:
4.1
(

1

votes)
Elizabeth Choy was born on 29 November 1910.She was looked after by a Kadazan nanny and also picked Kadazen as her first language. She became an Anglican at St Monica's boarding school in Sadakan,it wad where she took the name, Elizabeth and she went on to complete her education at Raffles College in Singapore.
http://v.koobits.com/1kd8cz2wyh4p
Copy the book address above and add to your e-library!