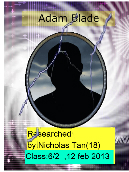 Read Online
Adam Blade
Average Rating
:
3.1
(

4

votes)
Adam Blade is the author of the 'Beast Quest' books. Adam Blade is in his late twenties, and was born in Kent, England. His parents were both history teachers and amateur artists, and Adam grew up surrounded by his father
http://v.koobits.com/1kd8z5hq1f4p
Copy the book address above and add to your e-library!