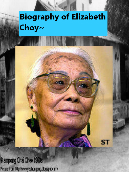 Read Online
Elizabeth Choy
Average Rating
:
3.7
(

5

votes)
She was selfless/ compassionate as she risked her life supplying food, medicine, money, and messages to the British Prisoners-Of-War. She was loyal. She did not betray Singapore by giving information to the Japanese despite being tortured really badly (slapped, kicked at, spat at , electric shock treatment).
http://v.koobits.com/1kd8c-jtv84p
Copy the book address above and add to your e-library!