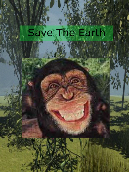 Read Online
Save the Earth
Average Rating
:
0.1
(

1

votes)
Why should we save the earth? Because earth is our home,it has lives on it and provides us our daily needs.E.g:paper,food and more. How to save the earth? We can do the 3Rs.E.g:Reduce(Reduce the use of plastic bags)Reuse(Reuse useless things)Recycle(Recycle bottles,paper or so)
http://v.koobits.com/1kd8wyxskc4p
Copy the book address above and add to your e-library!