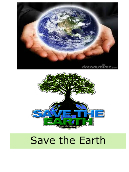 Read Online
Save the Earth
Average Rating
:
0
(

0

votes)
Do not let colourful balloon into mid-air as if the balloon lands into the water the sea turtle may mistaken the balloon as yummy jelly fish. (jelly fish is sea turtle favourite food )if we keep burning down the forest or cutting down trees would make animals die as some animals live on.
http://v.koobits.com/1kd8zl5y9s4p
Copy the book address above and add to your e-library!